History of Valga Museum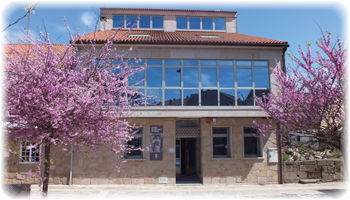 The History of Valga is presented in a building with a careful and attractive aesthetic that allows a pleasant approach to our environment and the past.
Low level
Presentation of the territory of Valga, its natural resources (Ulla River, Parafita waterfalls, Mercedes Mine) and the main roads that cross the municipality such as the Portuguese Way or the Camino Real.
On this floor, the visitor becomes aware of what Valga is as a geographical identity.
First floor
On this floor, the History of Valga itself comes to us.
From 1800 a.C. until today, a review of the main historical and artistic elements is carried out. In this way, the visitor can obtain, for example, information about Romanesque or neo-classical churches and then visit them live. But we will also find archaeological remains of sites that are currently active, such as Igrexa Vella or Mercado dos Mouros (an old Roman port on the banks of the Ulla).
You can see landmarks or works of art, such as the Battle of Casaldeirigo, which marked the victory of the neighbors of Valga in front of the Napoleonic troops, or see a piece of great beauty as the Capitel de Setecoros dating from the sixth century.
Second floor
Plant dedicated to illustrious people. On the one hand, the area dedicated to Xesús Ferro Couselo, where both the erudite figure and the person are approached.
On the other hand, the special and mysterious Bella Otero, with unique pieces such as a facsimile of her birth certificate, international newspapers of the time (where it appears on the covers), ceramic figures or the only recording that is preserved of what was the most recognized artist of Belle Epoque, a small video filmed by the camera of the Lumiere brothers, only 10 years after the cinema was invented.
Bella Otero House
Outside, but forming part of the museum, a traditional house, recreated with ethnographic pieces, allows us to have an idea of ​​the way of life of the late nineteenth and early twentieth centuries, not only in Valga but in Galicia. But it also allows us to understand what was the environment in which the Bella Otero lived in her childhood completing the idea of ​​the greatness that she achieved afterwards in her artistic peak.
Other areas
Auditorium for events where celebrations, conferences ...
Garden area that allows rest.
Guided tours for groups by appointment.
Follow us on facebook and also linking: